History FN - NANO s.r.o.
The company FN – NANO s.r.o. was established in 2016. Its task is to ensure the sale and distribution of functional coatings FN NANO® in the Czech Republic and abroad.
It is part of a group of companies created by visionary Czech nanotechnology firm, Advanced Materials-JTJ s.r.o. (AMJTJ) in order to realize and commercialise its research and development projects in the field of nanotechnology.
AMJTJ that functional coatings FN NANO®  developed, patented and manufactured, is a family company that was founded in 2003. AMJTJ engaged in research, development and manufacturing of nanomaterials and their applications and is today, perhaps the most productive Czech nanotechnology companies.
AMJTJ is a founding member of the Association Nanotechnology industry CR Czech Society for Applied Photocatalysis; and also a member of the Association of Chemical Industry of the Czech Republic and DECHEMA. He is also a member of foreign professional organizations The American Ceramic Society and The Electrochemical Society; and which also cooperates with a number of domestic and foreign scientific institutions.
Holding Advanced Materials-JTJ s.r.o.
More detailed information on the activities AMJTJ found here: www.amjtj.com
Holding Advanced Materials-JTJ s.r.o.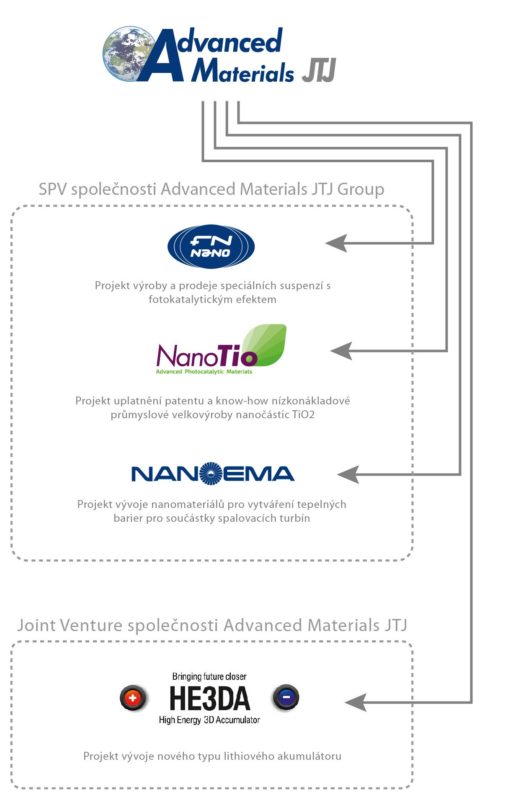 More detailed information on AMJTJ's activities can be found here: www.amjtj.com