REDUCING VIRUSES TO A MINIMUM, WITH THE HELP OF A GARDEN GNOME!
Daniel Butler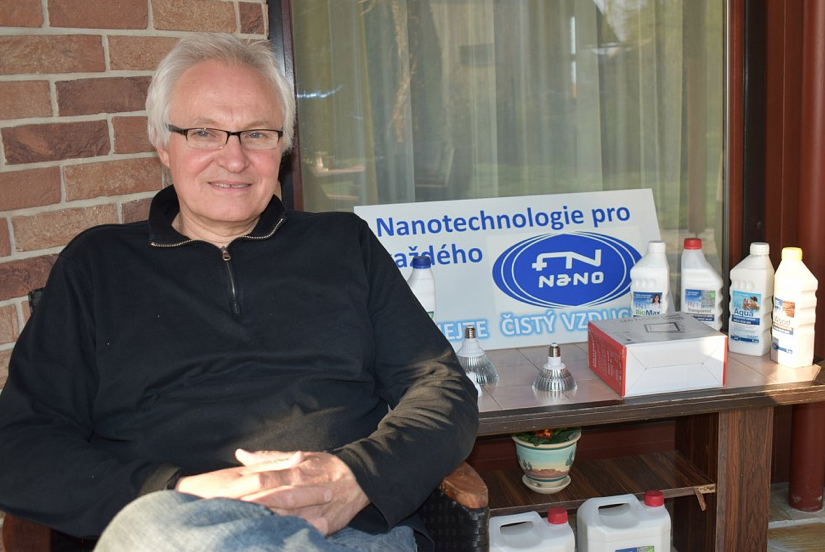 Scientist Jan Prochazka invented a unique functional coating that reliably kills viruses and bacteria withoutchemicals, using instead the mechanical process known as "photocatalysis".
He made a revolutionary discovery by chance with the help of a Garden Gnome!
A very interesting interview about coincidence that led to a patented invention that has no competition and the interest in functional coating from Jan Procházka's laboratory in the world is great. In cooperation with other Czech nano companies, it represents a concept that is applicable everywhere in the world, able to protect the population and reduce the risk of infection up to a few percent.
The whole interview with Mr. Procházka was published in a local news site but the translation can be found below.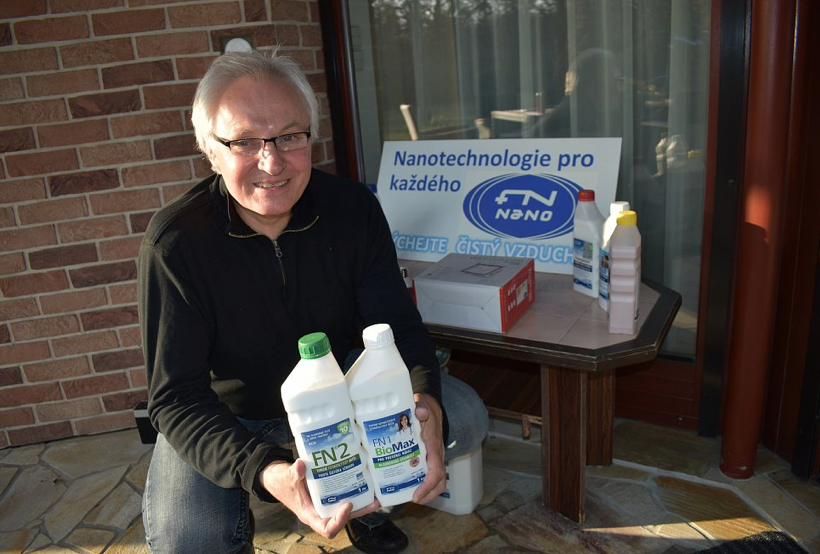 He made a revolutionary discovery by chance, inspired by a concrete Garden Gnome!
He and his colleagues have developed an intelligent nano coating – Functional Paint (FN NANO), thanks to light on its surface, kills all viruses and germs. The conventional titanium oxide nanoparticles contained in the coating are activated by light. This phenomenon known and described in detail for about 30 years is called photocatalysis.
Light is enough to destroy the invisible enemy. Either natural or artificial (UV), which triggers the physical process. No chemistry is needed, and you can get rid of microorganisms in a short time. The coatings already work in 4 North American cities, in Washington, Los Angeles, Las Vegas, Toronto and many places in the Czech Republic.
Suitable for walls in hospitals and schools
Those who understand the uniqueness of this nanotechnology apply it on walls in hospitals, school facilities, airports and other public areas. It is a photocatalytic coating. It contains crystals of titanium dioxide, which is activated when light falls on it. It acts like a hot plate on viruses and bacteria. "Viruses literally burn after contact with the coating", says the scientist.
As is the case with the great discoveries, Jan Procházka came to this by chance. He was inspired by a concrete garden gnome. "In our case, a miracle has been achieved. It was a coincidence, such a spark. We went to consult the material at a concrete plant, where they told me that the gnomes would turn green before they went to the market. I fished in memory and then I realized. "And there was a unique preparation in the world," says the scientist. It was 2006.
"Large companies use the wrong binders (eg silicate, acrylates, silicones) that virtually destroy the photocatalytic effect of titanium dioxide. However, we have managed to find an inorganic binder that does not break down or wrap the titanium dioxide," describes the principle of functional coating.
All thanks to the concrete garden gnomes.
"Thanks to concrete garden gnomes, we have come up with a way to coat the binder with nanoparticles and not block their activity. And that gives us fifty, if not a hundred times, greater efficiency than anyone on the market. The idea was quick but putting everything into life was a long run. In the end, we succeeded in patenting and launching the invention," says the scientist who founded the Advanced Materials JTJ family business twenty years ago with his father and sister. Today it employs 15 people.
Because it is a discovery that has no competition, there is great global interest in this functional coating from Jan Procházka's laboratory. As they say, no one is a prophet at home. Therefore, the Czech market has so far made its way slowly.
However, as the time has come to change the world due to coronavirus, the miraculous coating is applied like never before. "The paint works as a labyrinth of pores. When any microorganism enters it, it is caught. He has nothing to feed on and is completely isolated, so he cannot multiply. When you turn on the light, the virus detonates functional groups and it is immediately deactivated. By firing the first group, you will destroy the key through which it can enter cells," explains Procházka.
The question now remains as to what precautions should be taken after coronavirus.
As a member of the Nano Association of Czech Industry (Nanoasociace), which brings together about fifty entities, he most of all wants to convince others of the uniqueness of the Czech nanotechnology, as a creator of nanotechnology to become part of the legal preventive protection of means.
A technological concept that is applicable everywhere in the world
"The Nano-Association has joined forces to create an integrated system that can reduce the risk of infection up by many percent. Nobody else can. We come up with a concept that is applicable everywhere in the world. In relation to the economic losses that have already occurred, it is super cheap.
We are able to protect the population in an unprecedented way.
"We produce coatings, another Czech company makes lights, nano-cloth facemasks, nanofilters and so on. Together we hold unique tools in our hands, and therefore we responsibly tell our leaders that it is not necessary to go to the US, China or anywhere else. Everything you need is developed at home, proven by practice, patented, certified and in a short order it is able to meet all your demand. We do not have to buy from abroad, but on the contrary we can export this system of technologies ensuring unprecedented safety of the population and cover a hole in the budget created by the coronavirus," said Jan Procházka.
SOURCE: https://kladensky.denik.cz/podnikani/prevratny-objev-ucinil-nahodou-inspiroval-ho-betonovy-trpaslik-20200414.html